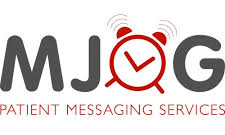 We are improving the way we communicate with our patients using "MJog Patient Messaging Service"
We use MJog, a fully automated text and email messaging service designed to reduce no shows and uptake of clinics such as 'flu vaccinations by allowing a fast and easy stream of communication between the Surgery and our patients.
Please ensure we have your mobile numbers, download the App and you will benefit from the following:
Free to use – it is free to download with no message costs.
Simple to use – MJog Messenger is self explanatory with clear details including links and buttons to complete app interactions – familiar and recognisable styling.
More informative messages, compared to SMS, with styled text and images allowing for clear and branded Practice communications.
Convenient communications – the app provides a straightforward view of documents including pdfs and letters the practice sends via the app which is delivered to one device (accessible across multiple).
Easy access – it's a simple process to cancel appointments in 'one click', provide feedback to FFT, or complete patient surveys.
Informative, relevant and efficient communications received – letter, pictures, links etc. all contained in one message.
Provides quick access to Google Maps, Facebook and other apps so patients can stay in touch with your Practice.
Building greater online engagement with our patients.